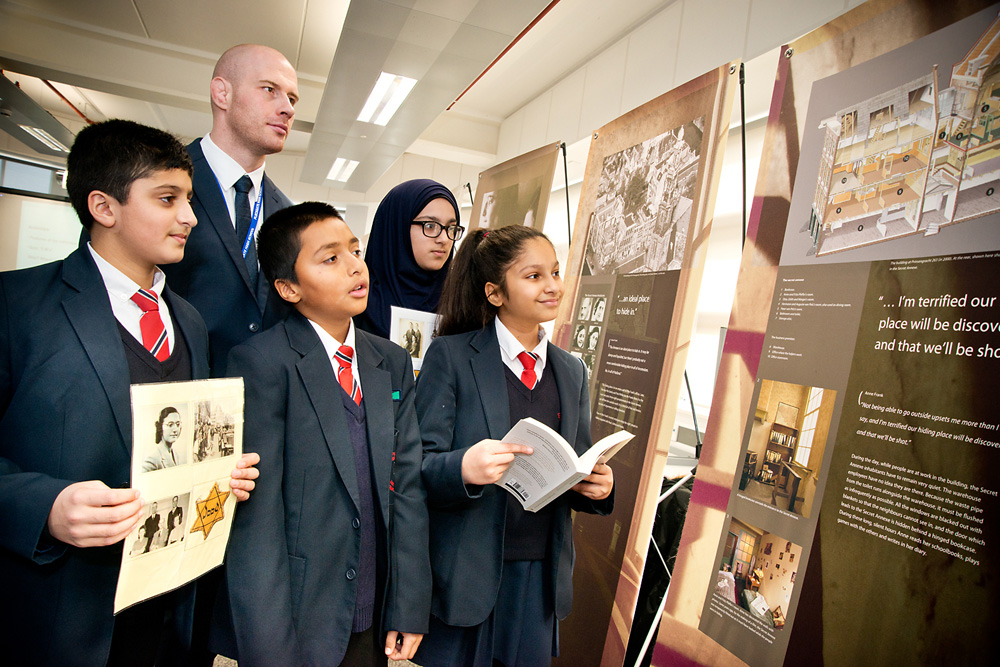 Pupils in Year Eight at Pleckgate High School are learning all about Anne Frank – and admit it's frightening to think that she went into hiding at their age.
Anne Frank Trust UK has set up an exhibition at Pleckgate where they can learn about what happened to Anne during World War II but also relate the issues then to nowadays.
Anne, a young Jewish girl, wrote a diary when hiding from the Nazi's in 1942 when she was 13 before she died in Bergen-Belsen concentration camp in 1944.
Her diary showed the impact of prejudice and hatred on individual lives – a lesson still applicable today.
Marian McQueen, from the Anne Frank Trust UK, taught a small group at Pleckgate about Anne's life and they were to show their class-mates around the exhibition.
"We were approached by the Inter-Faith Forum to go into schools in Blackburn and we are delighted to be in Pleckgate," said Marian.
"We teach, through the exhibition, the story of Anne Frank's life but we also connect it to the present and what is happening now.
"We taught a group to be leaders and they will use their knowledge to help their classmates understand Anne's life, it will help their confidence and will show how what happened then can have an impact on today."
Pupil Khadija Arfan said: "It's frightening to think Anne went into hiding at our age and how you would cope with that. We have learnt such a lot about her life but have also been thinking about similar modern day issues as well."
Religious Education teacher Jenny Savage added: "This is an interactive way for Pleckgate pupils to learn about the story of Anne Frank and they are so enthusiastic.
"They may also get the chance to work as Anne Frank Trust UK ambassadors as well so it's an important part of their development.
"They have already been saying that what happened to Anne is still happening today so they are learning a lot. It's about making sure they don't just stand by but they understand tolerance and build relationships with people who are a different religion to them."