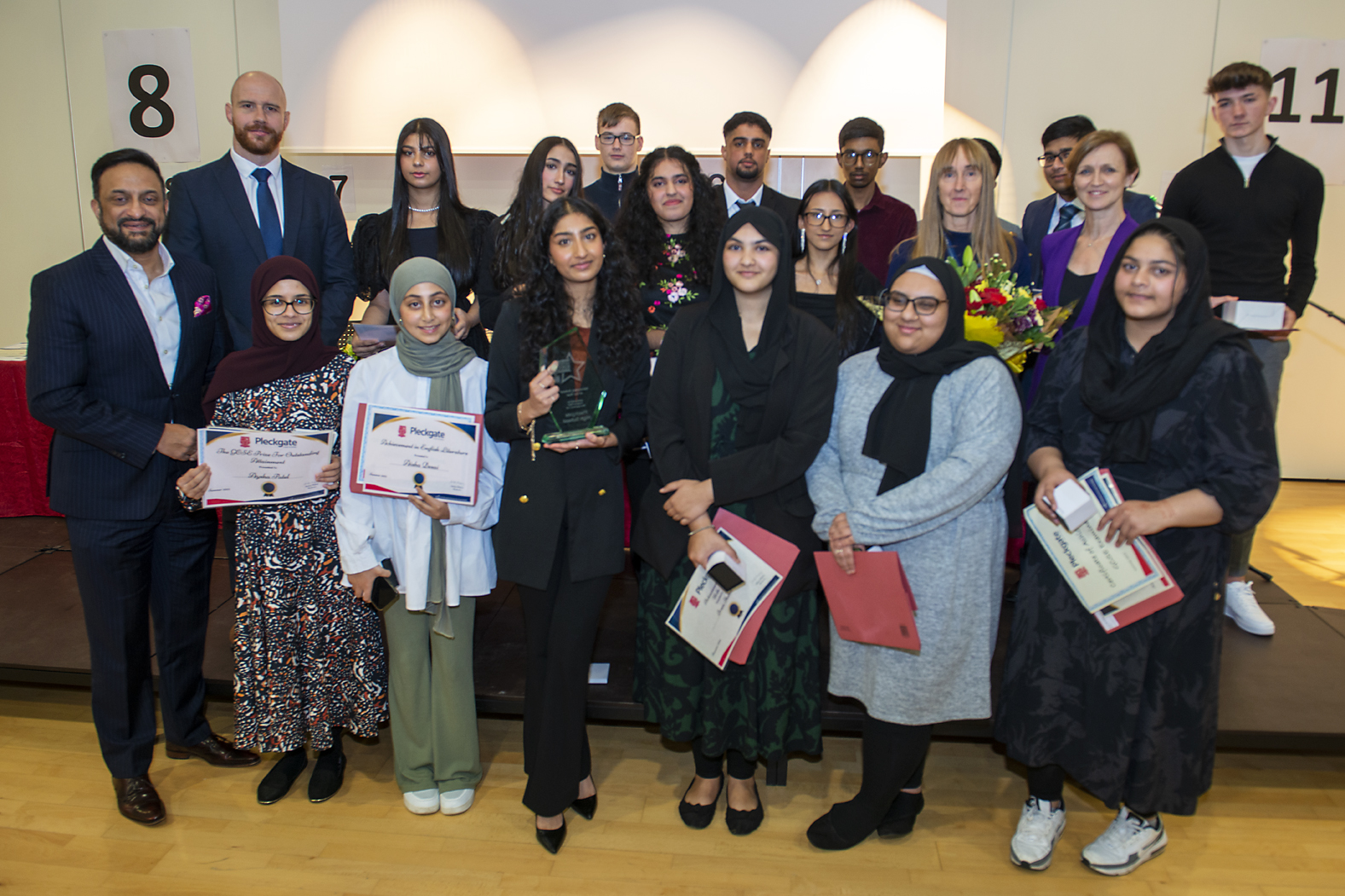 Blackburn entrepreneur Mo Isap was the guest speaker at Pleckgate High School's Annual Distribution of Awards and Certificates to last year's Year 11s.

Mo was at Pleckgate from 1990-5 and is now CEO of In4Group, an award-winning skills, innovation and start-up growth services provider, based in Media City in Salford. 

He spoke to the pupils about his life at Pleckgate, how he became an accountant when he left school as he felt that's what people wanted him to do but then how he found his passion and now employs 1000's of people. 

"Accountancy wasn't my passion and passion is everything, it energises, it's the fuel that allows you to overcome challenges," said Mo. 

He also talked about the importance of having strong, positive relationships and also courage to tackle obstacles and not to have a fear of failure. 

"I never thought I would be where I am now when I left Pleckgate in 1990 but you have to be ready to take your opportunities and have a passion and follow it. 

"You should celebrate every success, however small, be grateful and remember the possibilities are endless." 

Director of Education at the Education Partnership Trust Mark Cocker, who was Head teacher at Pleckgate during the Class of 2021's five years there, praised them for overcoming all the challenges thrown at the pupils during Covid. 

"These pupils have shown resilience and perseverance in the most testing of times. They have shown courage and determination and celebrated fantastic results." 

The award for outstanding GCSE results went to Aysha Patel, Zeeshan Yousaf, Rayhaab Zabar, Zara Hanif and Samara Khan, all of whom achieved Grade 9s in five or more subjects. 

The English Language Award for Achievement was presented to Safa Hanif who achieved a Grade 9 in English and, after starting out as not a top performer in Year 10, worked hard to be one of the best in Year 11. 

The English Literature Award went to Aisha Desai, again who achieved a Grade 9, and showed dedication as well as acting on feedback. 

The Mathematics Award went to Samara Khan who was an 'amazing pupil' and achieved a Grade 9 and the Further Mathematics Award was presented to Zeehan Yousaf, who was praised for his 'exceptional mathematics ability.' 

The Science Award was won by Aysha Patel who achieved Grade 9s in chemistry and physics and a Grade 8 in biology. 

The French Language Award was presented to Tanya Malik who showed 'enthusiasm and hard work' and the Urdu Language Award went to Iram Shahid, described as 'an outstanding pupil.'

The Technology Award went to the talented Bushra Begum who showed 'creativity and flair' while the Business Award was presented to Owais Adam, who achieved a Grade 9 and always gave 100 per cent effort. 

The Child Development Award was awarded to Laraib Hameed for her high standard of work and the History Award went to Thomas Sieczkowski, praised for his consistency and natural curiosity. 

The Geography Award was won by Maleeqa Hussain, who achieved a Grade 9, and the Art Award was won by Safa Hanif described as 'talented and innovative.' 

The Photography Award was presented to Amna Ali Ashiq for showing initiative and imagination while the Religious Studies Award was awarded to Ubaid Shaikh, who completed extra on-line courses to help him achieve a Grade 9. 

The Physical Education Award was awarded to Ali Zaman, a superb role model, while The Sporting Award for Boys went to star performer Zayan Akhtar and Sporting Award for Girls was presented to Samara Khan, a dedicated and talented sports woman. 

The Chair of Governors Award was given to Aliza Akhtar, who was described as perfect from day one and 'sunshine on a cloudy day.' 

The Headteacher's Award went to Maleeqa Hussain, described as an 'exceptional pupil.' 

Last year's Head Boy Mohammed Armaan Hussain, Head Girl Zara Hanif and Deputies Alisha Lakhi and Zeeshan Yousaf were also presented with a special award for their services to the school.
Mrs McGinty, Headteacher was delighted to welcome former pupils and parents for this special celebration, Mrs McGinty also thanked Head of Year,  Miss Hartley who had been instrumenal in guiding pupils through the challenges of returning the school and taking their GCSE's examinations following the disruption caused by covid, Miss Hartley explained how she was very proud of her year group and their fantastic results.