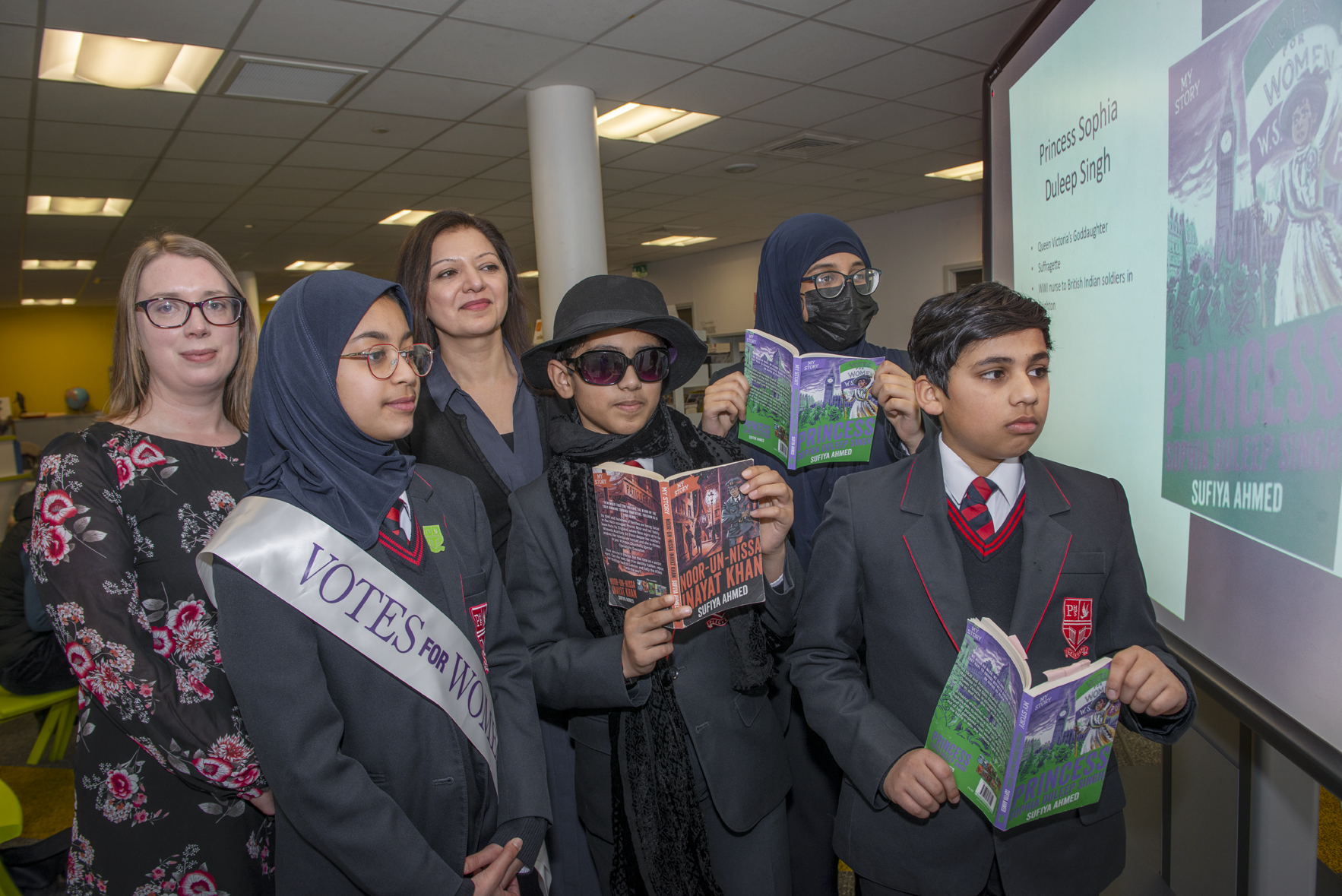 Award-winning author proves an inspiration to pupils
Year 7 and 8 pupils were inspired by award-winning author Sufiya Ahmed when she made her fifth visit to Pleckgate.
Sufiya was born in India, before moving to Bolton and she now lives in London as a full-time author, her dream job.
Sufiya came to talk to Years 7 and 8 with her workshop entitled 'The Spy and The Suffragette.'
Sufiya's latest two books are Noor-un-Nissa Inayat Khan and Princess Sophia Duleep Singh.
In the first, it covers the real-life story of a World War Two heroine who is a spy for Winston Churchill.
The second is another true story about a suffragette.
"They are historical role models, they have been hidden in history and I wanted to show how British/South Asian figures have contributed to the history of this country," said Sufiya. "Princess Sophia was the god-daughter of Queen Victoria.
"It's something we should be honoured about and celebrate.
"I didn't have these type of inspirational figures when I was a school girl and it would have added to my belonging to this country so I feel it's important to tell their stories.
"I also do Workshops for Human Rights, to inspire youngsters that they can campaign, they can change things by signing a petition or writing to their MPs."
Sufiya said: "I love coming to Pleckgate, the pupils ask some interesting questions and it's about raising their aspirations, to believe they can achieve their dreams."
Year 8 Arifa said: "It's been really interesting, I asked a question about who she dedicated her first book too. I like reading and it's interesting to meet an author."
Saad  said: "I like English and hearing the stories, it has made me want to read the books now."
Library Resource Leader Mrs Hanson said: "It's important to have authors visiting the school to inspire our pupils, especially with it being World Book Day next week, where we have a visit from another author, Alan Gibbons.
"Our pupils asked Sufiya a lot of questions and were engaged and interested in her books. They want to know how she became an author – and of course how much she earned!"
Sufiya is also on the steering committee for the Great School Libraries Campaign.
"We believe that libraries should be statutory in school like PE. They are vital to the wellbeing and education of our country's children.
"They offer space for children to grow by offering stories and providing information.
"School libraries are a means for levelling up and no child should be denied the opportunity to become the best version of themselves."