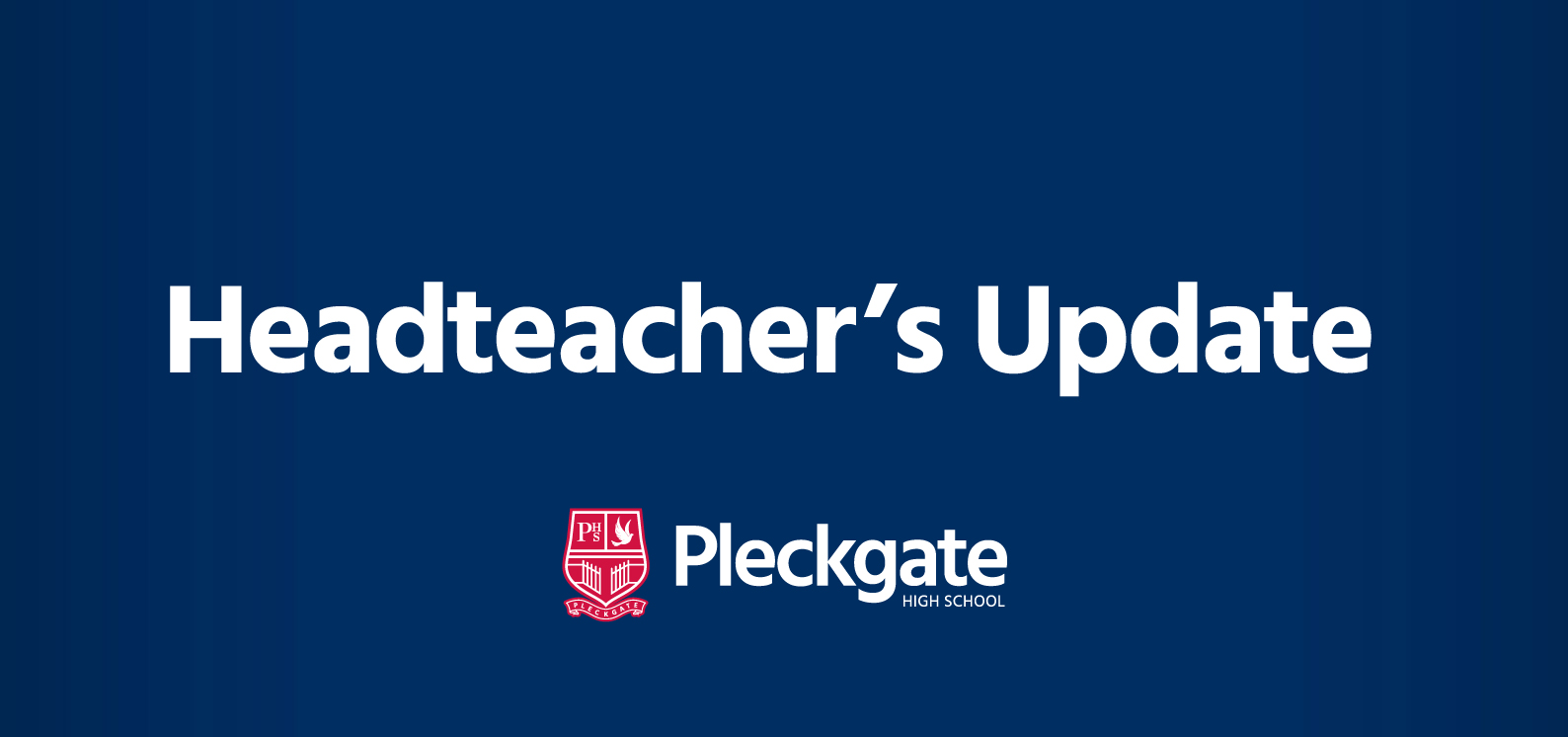 Dear Parents/Carers
We are almost at the end of another highly successful year in which Pleckgate High School continue to achieve rates of progress significantly above the national average. Pleckgate is now in the top 18% of schools in the country. With our maths department achieving results in the top 1% of all schools, I am proud of the excellent educational experience we are able to provide for all our pupils.
What makes Pleckgate unique is that our success is not just based on our results. The pupil's commitment to charity work through their own hard work and endeavour, demonstrates our values as a school. Pupils have also been able to participate in a range of visits and experiences including abseiling, archery and climbing; all of these experiences allow us to develop more confident young people who have aspirations and ambition.
Our successes continue outside of the classroom and were all very proud of Aaisha Abdulgani and Saira Surgeon who made it to the final of the Reg Johnson Cookery Competition run by Blackburn College and won the 'Best Chicken Dish'. The school's sporting triumphs are also impressive; Year 7 and 8 boys were crowned football league winners with the Year 7 and 8 girls achieving success in both netball and rounders. Cricket continues to be strength at Pleckgate with our teams currently remain unbeaten and winners of the league.
I am looking forward to meeting our new year 7 pupils and parents who will join us shortly for a taster day and sample life at Pleckgate. We are now an oversubscribed school, demonstrating that we are once again the local school of choice.
As Headteacher, I believe in high expectations for every pupil and will never settle for anything less. Please continue to support the school by re-enforcing respect for our school ethos with your child over the summer break, particularly the importance of high standards of attendance, punctuality, uniform and behaviour. Please be aware that from September, it is my expectation that all pupils will have transitioned to the full new school uniform, that requires blue school pants or a blue Pleckgate skirt for girls.  It is important that we are able to maintain excellent communication with parents and from September we are moving towards becoming a paperless school.  Please provide the school with your correct email address and contact details.
Finally, some of you may already know that Mr Ian Kendrick, the Chair of Governors at Pleckgate, will be stepping down at the end of the year. I would like to take this opportunity to thank Mr Kendrick for all his support over the past four years and wish him all the best in his future.
I would like to take this opportunity to offer my most sincere thank you to all pupils, parents and staff who have supported the school this year. We will be welcoming all pupils back to school on Wednesday 5th September, with our new Year 7 pupils starting at 8:20am followed by all other year groups at 11am.
Yours sincerely
Mark Cocker
Please find below a summary of key dates that every parent needs to be aware of over these last few weeks:
| | | |
| --- | --- | --- |
| Date* | Event | Points to note |
| Wednesday 5th July* | Year 6 Transition Day & Evening | *School open to all year groups |
| Friday 13th July | End of year trips | All year groups |
| WC Monday 16th July | Achievement Assemblies | All year groups involved |
| Monday 16th July | Year 7&8 Sports Day | Pupils involved to bring PE kit |
| Tuesday 17th July | Year 9&10 Sports Day | Pupils involved to bring PE kit |
| Thursday 19th  July | School Closes | School will close at 12:10pm for all pupils |