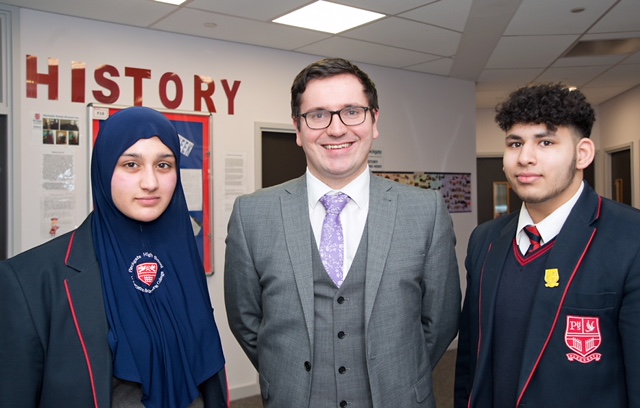 Pleckgate's history department has gained worldwide acclaim after using 21st Century technology to take pupils back to the 16th Century in a new forward-thinking project.
Pleckgate have been using Virtual Reality technology in the classroom to look around and experience 16th Century England at Hardwick Hall in Derbyshire.
The project, run by Carmel Bones who works nationally and internationally, was developed to help schools optimise outcomes for pupils and teachers and the results of Pleckgate's findings, among others, have been published internationally.
Carmel said: "The innovative History Department at Pleckgate have taken a cutting edge approach to the requirements of the new GCSE. 
"Excited by the prospect of studying Elizabethan England and specified site Hardwick Hall, Mr Bajkowski  and the team arranged both a real visit and a virtual visit.
"Using the latest 360 VR technology experienced through iPads and google glasses, Year 11 pupils can now be transported back to the past whenever they like.
"I was delighted to help pilot the idea with the department. The virtual tour allows GCSE pupils to revisit the rooms they saw for real on the fieldwork day thus putting the past in the present. 
"Year 11s can explore the magnificent Elizabethan property and listen to sound bites which provide the historical context needed for exam success. 
"Bess of Hardwick, who built the hall, was the second richest woman in England after Queen Elizabeth 1 herself. She was a bold pioneer who pushed the boundaries of what was possible. It seems the Pleckgate History team are following in her esteemed footsteps."
Pleckgate's Head of History Mr Bajkowski said: "This project was a tremendous success for us. It enabled our pupils and staff to prepare for the trip, allowed the trip itself to be more meaningful and purposeful as well as allowing us to consolidate the learning afterwards. 
"We were delighted to be selected to pilot the project and this just emphasises one element of the cutting edge teaching and learning taking place across the department. 
"It is an honour to have had this work recognised and published in the world-wide publication 'Teaching History' as well as education magazine 'Innovate My School' and we look forward to contributing further to both publications in due course."