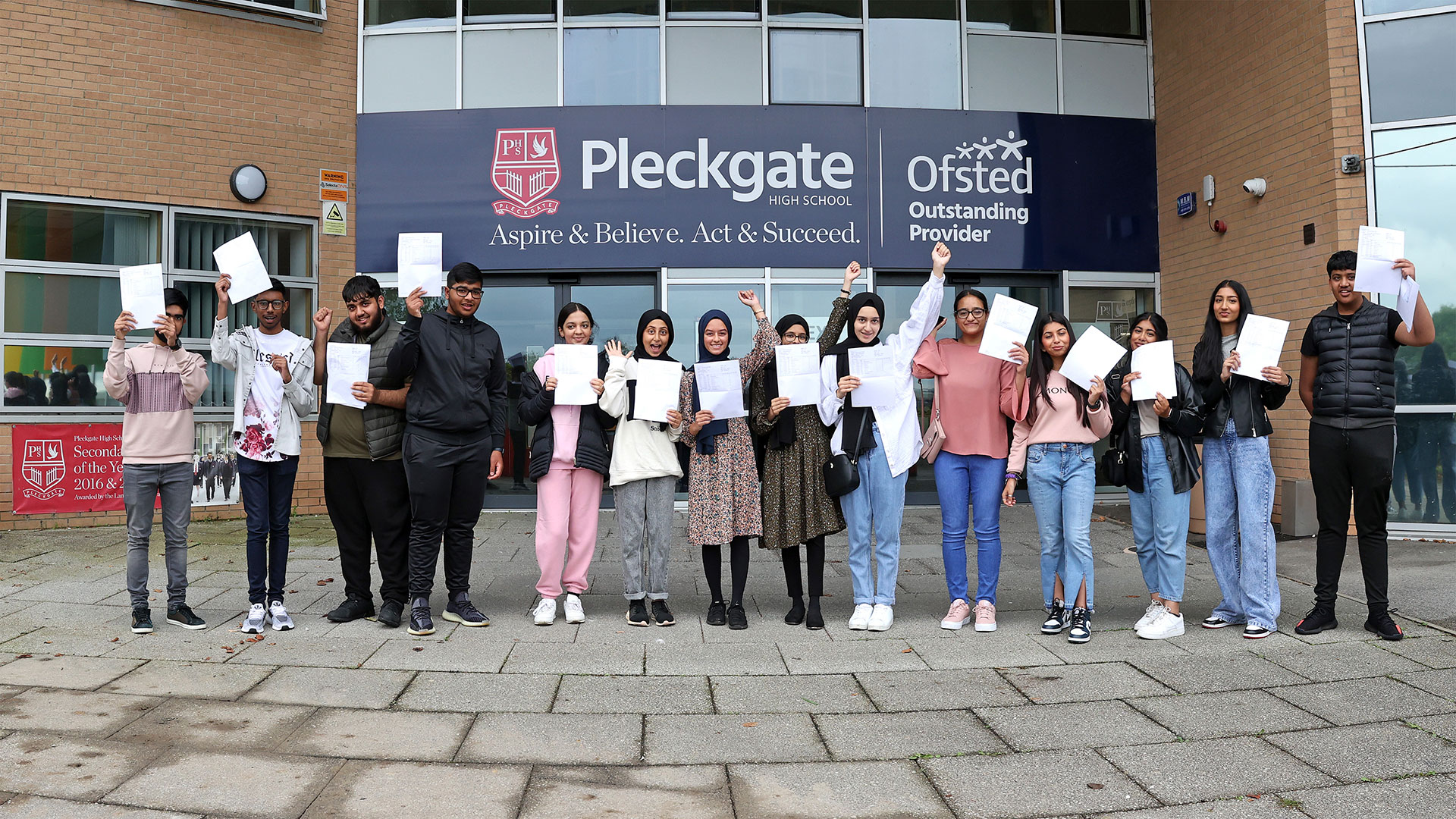 Congratulations to all our Year 11 pupils who have received their GCSE results. We are so proud of how hard you have worked and how well you have done. A fantastic achievement from an excellent year group.
Mrs McGinty commended the success of year 11 pupils after picking up their GCSE results.
Mrs McGinty said the readjustment involved in returning to school following Covid had shown the resilience and determination of the pupils. Year 11 were delighted to receive their results in person and meet their subject teachers to celebrate their achievements.
Head of Year Miss Hartley praised the school leavers for rising to the challenges posed by the exam format returning after a two-year hiatus.
"I'm very proud of my year group. They have had a difficult time with Covid and are still playing catch-up but they've worked very hard to do that," said Miss Hartley.
"This is the first year since Covid that we have had exams too and it's been difficult to prepare because for a time pupils were thinking 'maybe we won't be doing exams' so the preparation for the exams has been difficult, and there have been so many changes in light of Covid, but they have risen to that challenge.  "They've been an amazing year group and I wish them all well for the future."
Mohammad Yousaf is considering a career in dentistry after getting top marks in higher maths, further maths, chemistry, English language and religious studies, as well as grade 8 in history, biology and physics among his 10 GCSEs.
"I am very pleased. It was a lot of hard work," he said before going to enrol at QEGS to study maths, biology, chemistry and psychology.
They are subjects which Zainab Undre also intends to study at QEGS after getting 9s in higher maths and English language as well as 8s in biology, chemistry, physics, further maths and religious studies among her 10 GCSEs.
"Maths is my favourite subject so that's the one 9 that I really wanted," she said.
"I'm happy and relieved. It has been a long wait."
A career in dentistry or optometry is on the cards for Mohammed Moosa after he admitted he was "in shock" at his results.
"I started revising in January but I still thought I was going to fail. Exams are scary," he said after getting 8s in history and religious studies, 7s in business and English literature, 6s in combined science trilogy, higher maths and English language as well as a strong pass for French.
"I'm the youngest of three and I've done better than my brothers so I'm going to boast about this to them and celebrate with my family".
But a day of celebration was tinged with sadness after going into school for the last time to collect his results.
"I've really loved high school," he added.
"I've made so many friends and had some really good teachers."
Samara Khan said the standard of teaching at Pleckgate had also helped her to succeed in maths, a subject in which she earned two 9s for higher maths and further maths, alongside top marks in combined science trilogy and religious studies.
"I've had Miss Harrison since year seven or eight so I've had consistency and that has helped me and is the main reason I got nines."
Maleeqa Hussain also excelled in maths with 9s in higher maths and further maths, as well as geography, chemistry and religious studies, 8s in biology, physics, English language and English literature and a distinction in child development, and is now going to study A level maths, biology and chemistry at Blackburn College.
"I was expecting one nine in maths as that's my strong point, and maybe a couple of 8s, so I'm really pleased," she said.
Head of school Mrs McGinty said: "We are really pleased for our pupils,  they have shown determination and belief and we are very proud of them. "It's been great to talk to the parents, who have been grateful for all the support of the staff at Pleckgate.