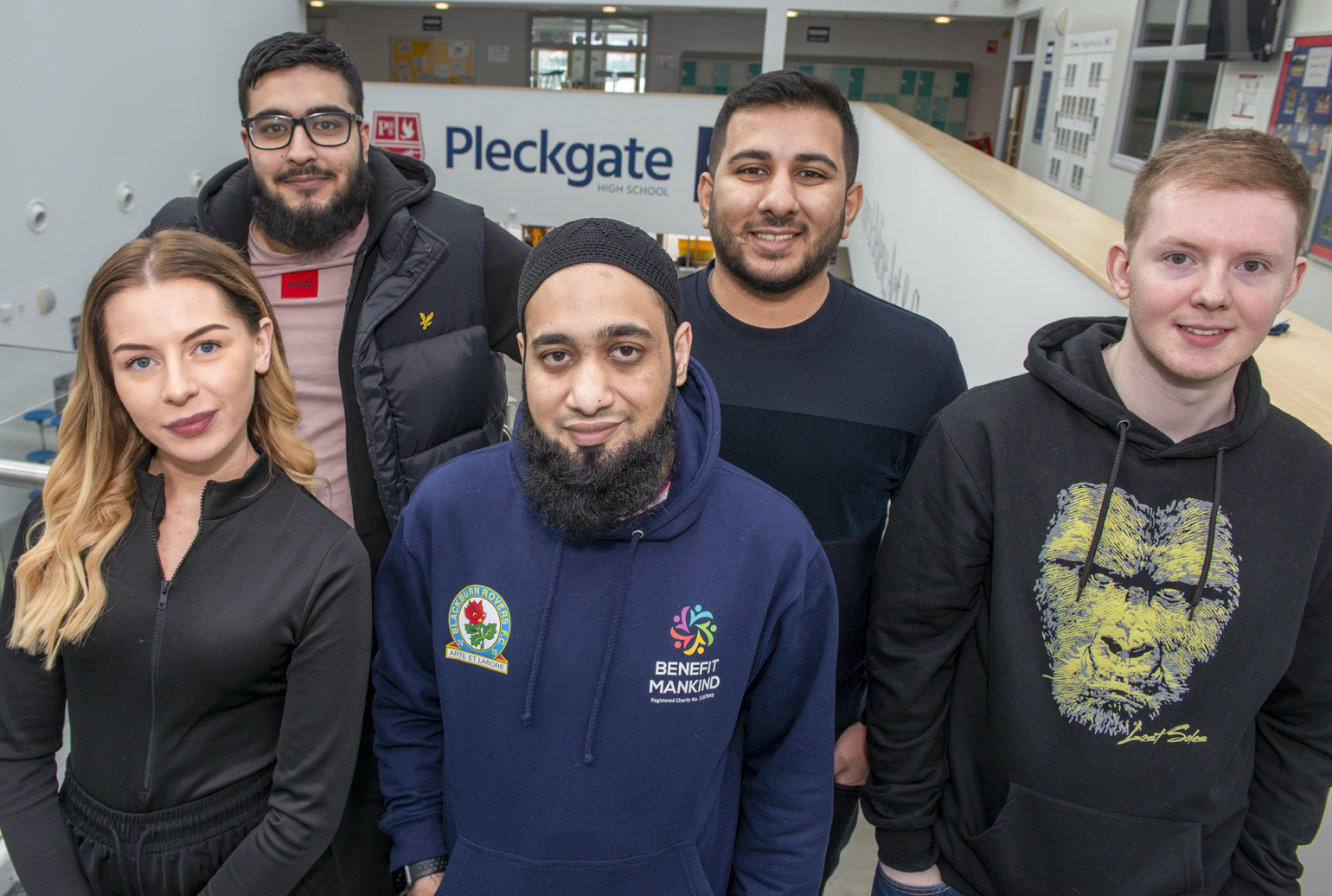 Pupils to apprentices to full-time employees – Pleckgate staff have a pathway to success!
Pleckgate offers not just outstanding education for their pupils but also fantastic professional development for their staff.
Five of the current staff began life as apprentices – and two of these are former Pleckgate High School pupils.
Mr Mulla is the longest serving apprentice-to-full-time employee, beginning as an IT Apprentice in January 2014 where he had very little experience and knowledge about the complex IT systems required to run a school.
"IT has always been my passion and I started here as an apprentice, moved to Junior Technician, then Technician and now I am IT Manager," said Mr Mulla .
Mr Mulla has benefitted from training and development at the school and said: "I started at the bottom of the ladder and have worked my way up and I love it.
"The school provides every pupil with their own tablet which has really helped pupils continue to learn successfully despite the disruption to education during the past two years.
"Technology is huge in school, especially during Covid, where we had to implement remote learning.
"Day-to-day, my job is about solving any problems with the network and making sure everything runs smoothly so it's making sure 1,300 children can access their learning both at home and in school".
Mr Mitha, a former Pleckgate High School pupil, was keen to work in IT and joined the school as an IT Apprentice.
"I went to university but it didn't work out and so I searched for apprenticeships and Training 2000 found me the role here."
Working closely with Mr Mulla, Mr Mitha has progressed to an IT Technician and he is positive about the opportunity to return to his old school and make an impact.
"I know how the school works, I have learnt a lot as an apprentice and was happy to get a full-time job and move up. It's great to work where you were a pupil as you get to see the other side and help pupils".
Another former Pleckgate pupil, Mr Bux also began as an IT Apprentice and has progressed to the position of Data and Exams Manager.
Mr Bux left school with excellent qualifications but was not sure what career path he wanted to follow, so he started looking for apprenticeships.
"This came up and I applied and worked with Mr Mulla who helped me to quickly progress to IT Technician.
"I always loved working with numbers so when the opportunity of Data and Exams Manager came up in school, I applied.
"This is the perfect role for me.  It is a bit weird working at the school you went to. I still call everyone Sir and Miss as it's hard to get out of the habit!"
Miss Fish admitted her opportunity at Pleckgate has given her a career path after not being sure what to do.
Sophia, 22, said: "I went to Cardinal Newman College but it wasn't for me and went to Training 2000 who found me the apprenticeship at Pleckgate.
"I began on reception as an apprentice but have now moved to Admin Assistant. The school supported me in gaining my qualifications, which I am really proud of.  I achieved a Level 3 in Business Studies through school and they also helped me get my maths GCSE.
"I love working at a school and as part of a team."
Mr Wolfenden began life at Pleckgate as Finance Apprentice and is now Business Support Officer.
Mr Wolfenden said: "I applied for the apprenticeship when I was at Nelson and Colne College, I always wanted to do something with finance.
"It was strange when I started as I was 18 and I was only two years older than the pupils but I have been here three years now and have moved up to Business Support Officer, which is partly financial but also doing things such as risk assessment on trips.
"I am really grateful to Pleckgate for giving me this opportunity."
School Business Manager Mr Clark said: "We work hard as a school to offer an environment where staff can start and build their careers. We support both teaching and non-teaching staff in their personal development and it is really important to us that staff are happy and successful at work."