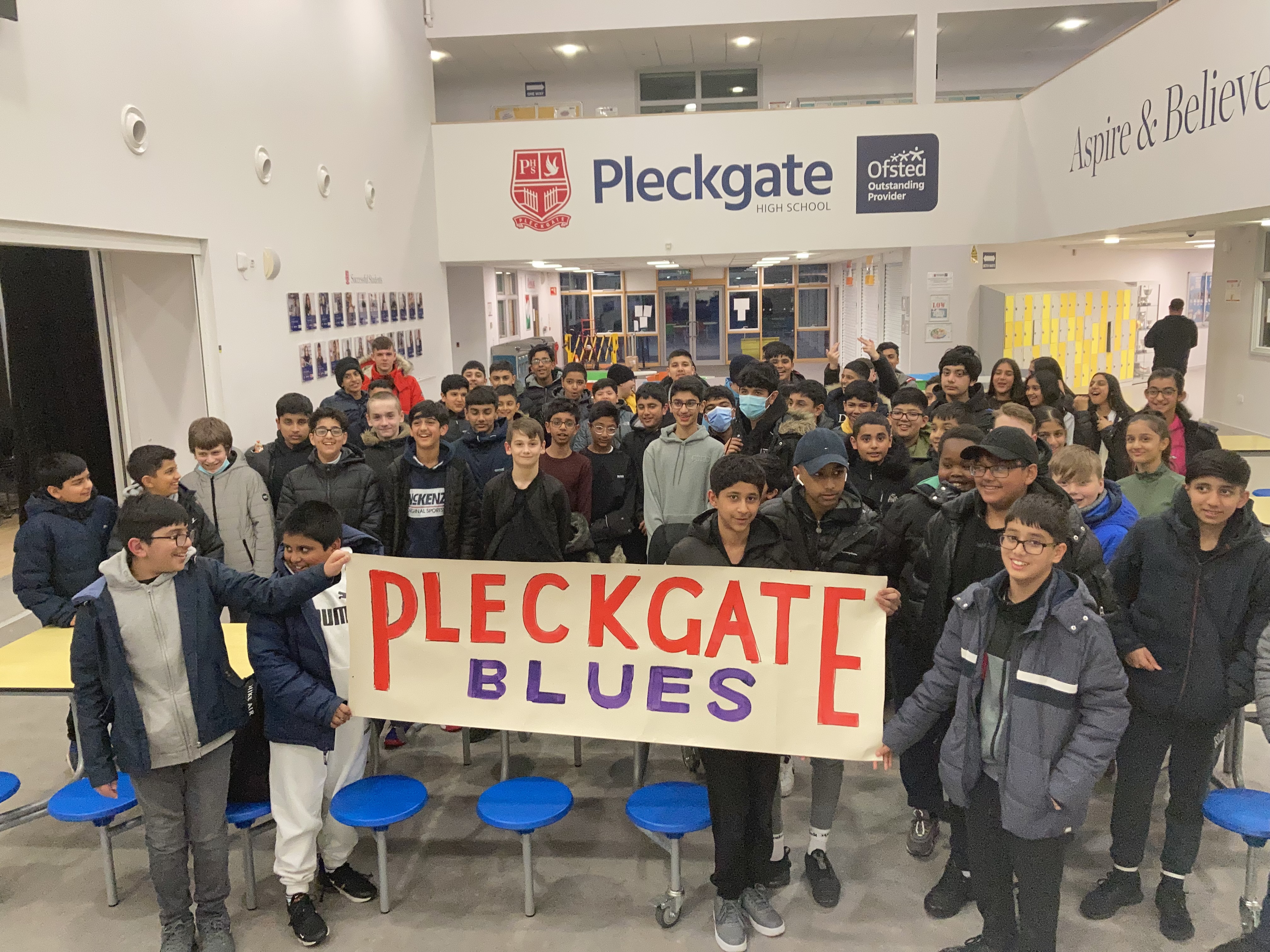 "Rover the Moon!!!"
A Tale of Two Talents
Blackburn Rovers 3 v 1 Derby County
As a reward for the dedication and commitment that Pleckgate footballers have shown through the long winter months a trip was arranged for 70 pupils to watch Blackburn Rovers V Derby County at Ewood Park. This is part of the Rovers initiative to boost community involvement in the club kindly organised by Yasir Sufi, the son of our very own Mr Sufi.
The game, like Rovers iconic blue and white shirt, was a tale of two halves and two talents. A dismal first half saw Rovers fall a goal behind after profligate defending let in former Manchester United prodigy Ravel Morrison to open the scoring. Morrison has undoubted talent but it has remained unfulfilled due to a petulant attitude which was evident in his reaction after the first goal. Morrison was touted as a replacement for his current manager, United legend Wayne Rooney, but lacked his dedication and commitment, failing at a range of clubs including West Ham United and Italian giants Lazio. In contrast Tryhys Dolan lit up Ewood Park with an electrifying display of pace and trickery. Dolan failed to make the grade at Manchester City but his work-rate and attitude was a superb example to Pleckgate pupils of how to make the most of your talent. His display covering every blade of the Ewood turf was reminiscent of the metronomic Bernardo Silva, who Pleckgate pupils saw light up the Champions League game v Club Brugge earlier this season.
The jeers of the Blackburn End swiftly turned to cheers at the start of the second half thanks to a header by Wharton from a Rothwell corner. Rovers talisman Bradley Dack returning from a long-term injury replaced Bradley Johnson who had put the "false" into "false 9". Dack's whipped in ball gave Dolan the goal his performance deserved. His joy at his goal and passion for Rovers as he kissed the legendary Red Rose badge was shared with the "Pleckgate Blues." In stoppage time Sam Gallagher added a third goal from a delicious cross from substitute Ryan Giles to seal the win in front of the "Rover-joyed" Pleckgate pupils.
On the way the Pleckgate Blues were, "going down the Bolton Road" singing about the Blackburn Aces!!
The result has revived Rovers faltering play-off push and leaves Rooney's Derby peering through their binoculars over the precipice of relegation into the abyss of League One. Hopefully the evening has inspired Pleckgate pupils to make the most of their sporting talent like Dolan and get down to Ewood regularly.
Attendance:12,406