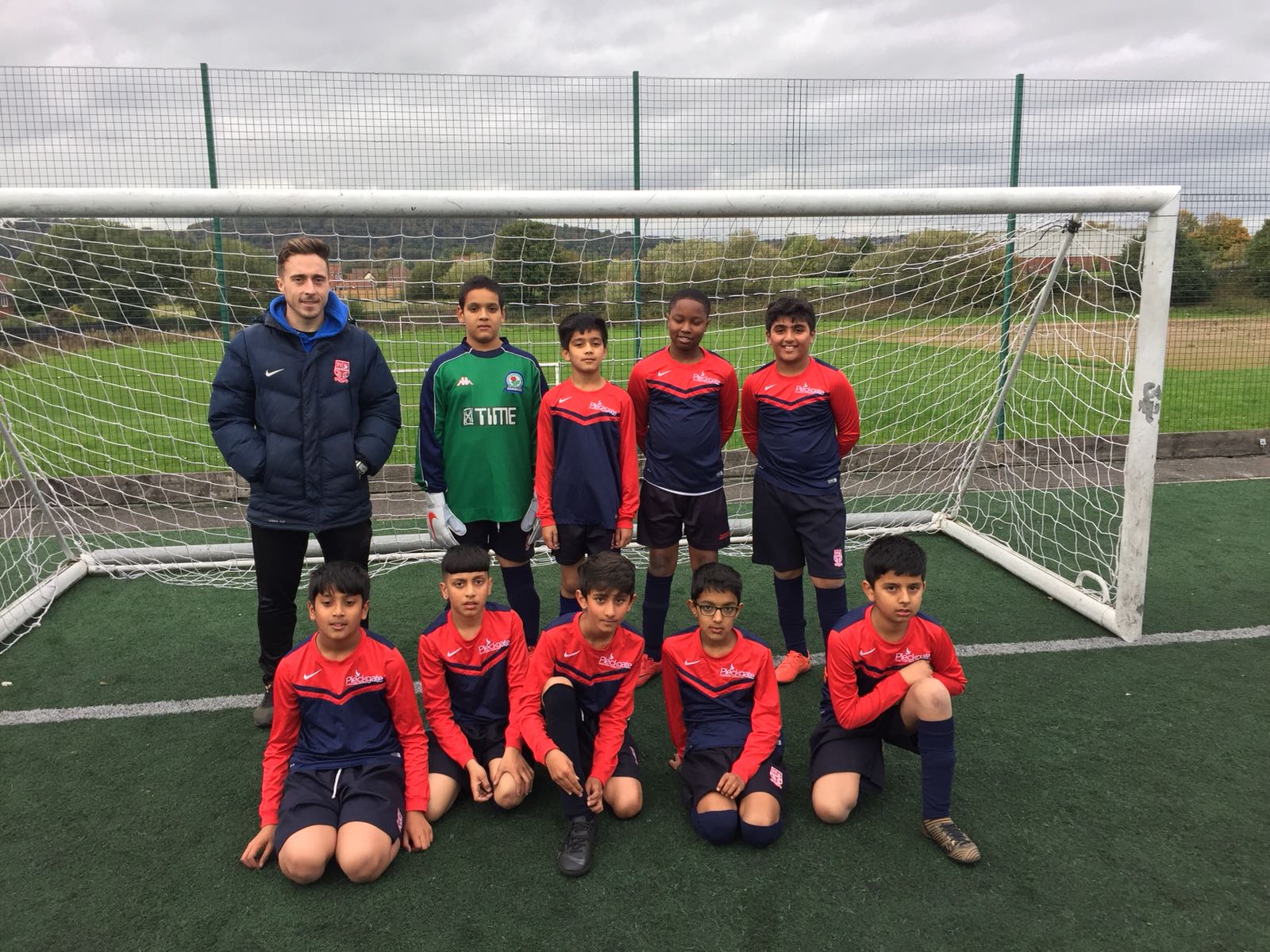 Following Pleckgate year 7's impressive win versus Blackburn Central Mr Brierley selected the same squad to play against Tauheedal including Mohammed Vaid who scored a hattrick in the previous game. The Match started at a frantic pace, Biola Olu-Ajayi looked sharp on the right wing. Pleckgate took an early lead when Faisal Hussain calmly slotted past the goalkeeper. Pleckgate looked solid at the back for most part of the first half with Raihan Naziramod, Ahmed Mulla and Daniel Kabanga. One slip of concentration did cost Pleckgate when the Tauheedal striker snuck in to equalise past Juayl Mahaldar who had looked comfortable all half.
HALF-TIME
At half time Mr Brierley made several chances bringing on Hasan Malik, Amaan Razzaq, Sahl Khan, Faizan Patel and Zaid Makda. Pleckgate started fast and looked reinvigorated after the half-time break and took the lead again with a rasper from Captain Yusuf Bhamjee who dominated midfield all game alongside midfield partner Umer Khan. It was soon 3-1 another goal from Yusuf Bamjee who doubled Pleckgates lead. Just when you thought Pleckgate may be home and dry Tauheedal hit back with a good move and finish to bring the game back to within a goal … 3-2! Pleckgate shuffled their pack and brought on defender Riyadh Tharia and soon after scored a fourth when the front three of Hasan Malik, Faizan Patel and Amaan Razzaq worked well together with Amaan finally turning and finding the corner of the net … 4-2! The last roll of the dice saw Sahl Khan thrown upfront which paid off when he latched onto the end of a long ball and lashed it past the goalkeeper to seal the 3 points for Pleckgate.
Man of the Match went to Ahmed Mulla who was a rock in defence alongside Raihan Naziramod who was equally as solid at the back.