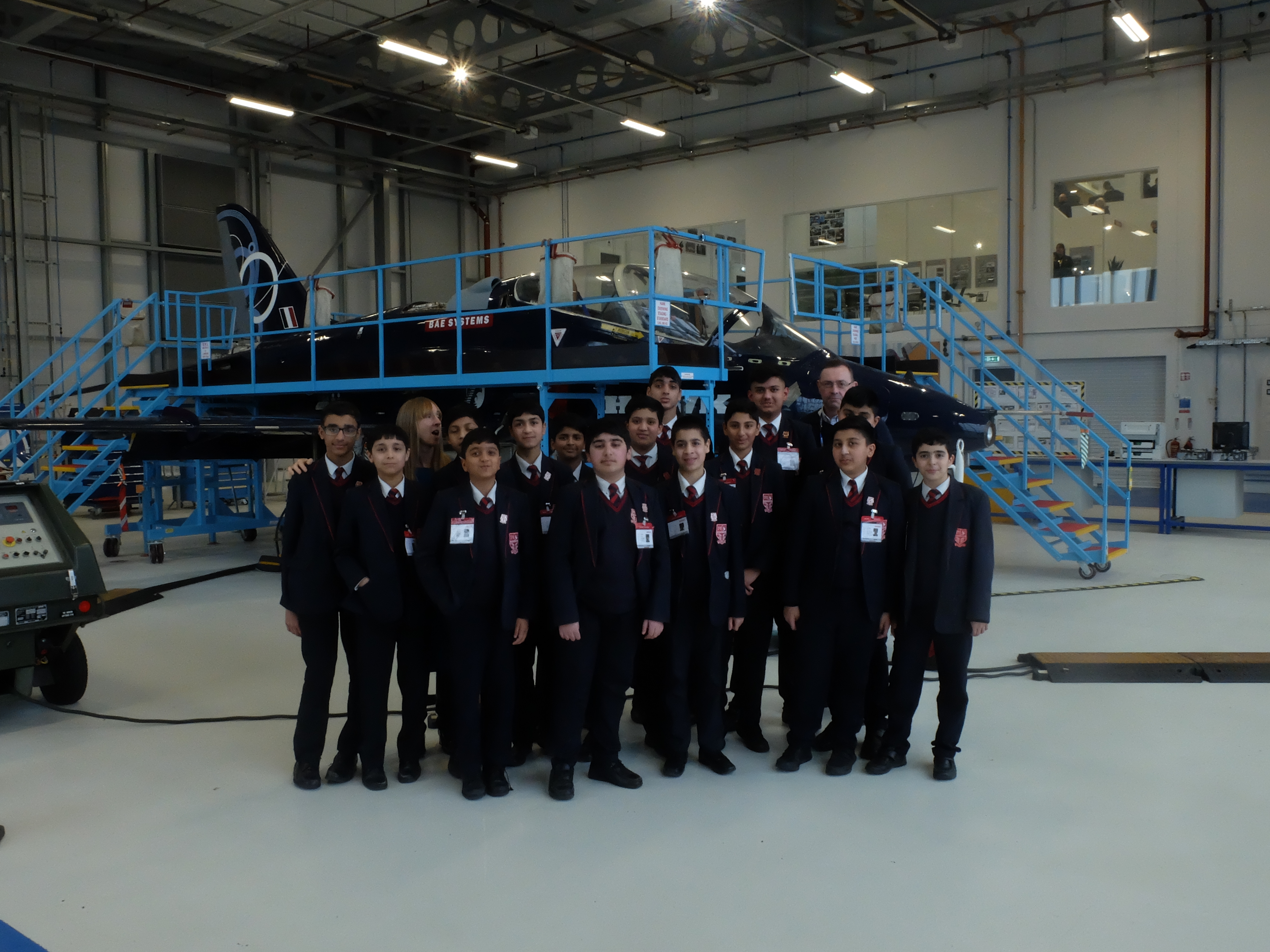 Year Eight Pleckgate High School pupils have been inspired by their trip to BAE Systems at Salmesbury on a Support Products Workshop.
The pupils were so impressed that many of them now want to be an engineer and work at BAE Systems.
They had a tour of the site and got to see and have their photo taken in front of a Hawk fighter jet.
Pupil Ali Umar said:  "I enjoyed the Tornado fighter jet and the astonishing engine and seeing how good the place was.
"In future I would love to work with the people at BAE Systems, the staff were friendly and they knew a lot about planes. My dream at BAE Systems would be to fly and test the planes of the future."
Huzaifa Delawala said: "When I went to BAE Systems it was a really good environment. The people that worked there were very friendly and supportive. The exciting bit was when they were showing a fighter jet.
"The most interesting fact was that the speed of the jet was just under the speed of sound. It inspired me to get a job there and be an engineer. They gave a lot of facts about the jets, who designed them and who manufactured the jets and what they were used for."
Daniyal Nadat described BAE Systems as 'breathtaking.' "I enjoyed seeing the Tornado fighter jet and I loved seeing the inside of the jet. It was a good feeling.
"I learnt lots of facts and it has inspired me to become an engineer. We also took part in the virtual reality experience which was amazing."
Huzayfah Jariwala added: "When I found out I was going to BAE I was ecstatic.
"When we went we had a tour of the whole place and we got to see the jet fighters which were gargantuan. The technology that they use was amazing.
"Every detail was clear and the staff have to work really hard to keep everything up to scratch. It was a new experience for me because I have never realised how hard people work. It inspired me and showed different aspects of jobs.
"After this trip I thought about what I want to be when I grow older. I have decided I want to be a technical engineer. The engineers at BAE were extremely happy and enjoyed every bit of their job."