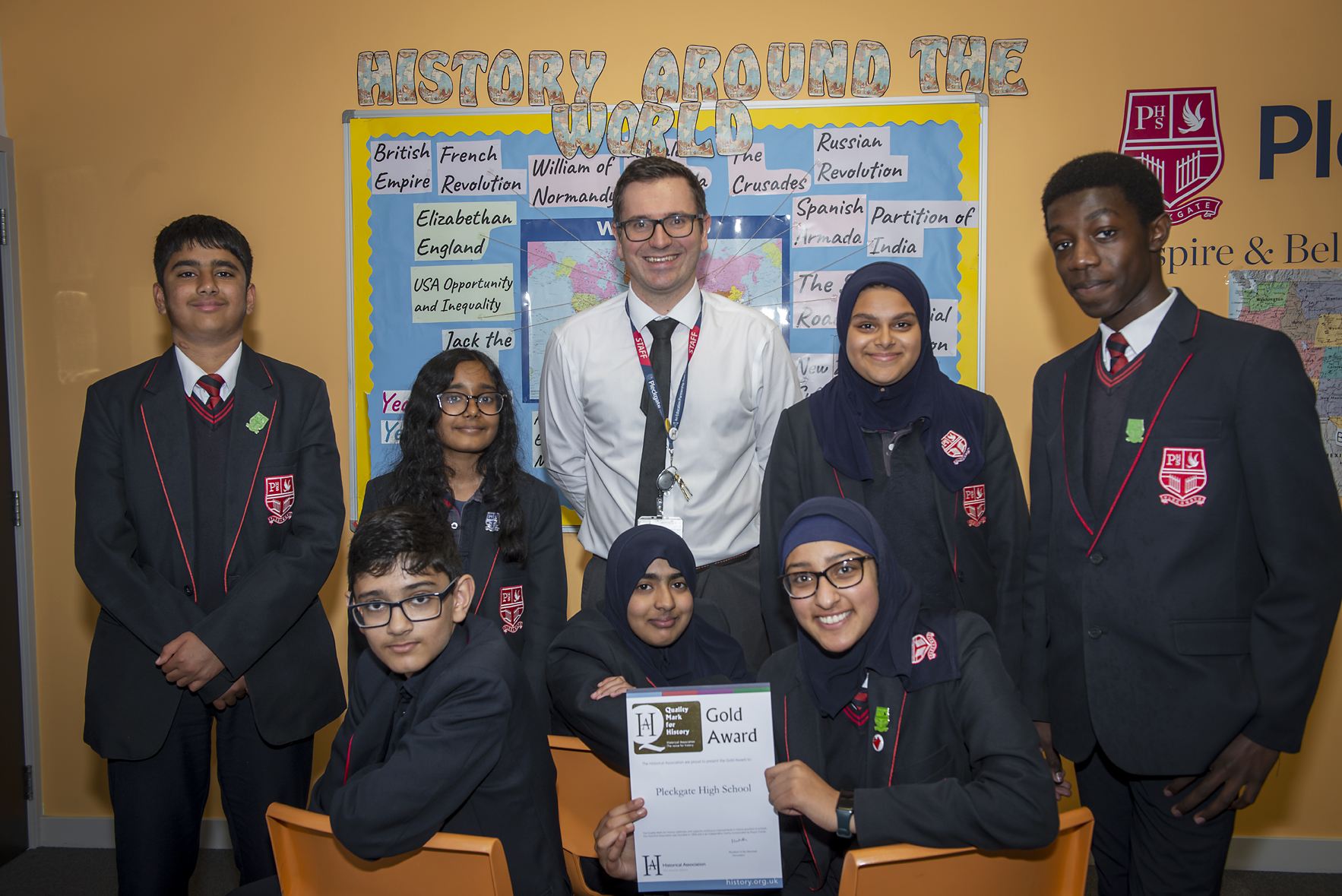 Pleckgate's History Department are golden – they have received Gold in the Historical Association's Quality Mark, the highest accolade they could achieve.
The department was assessed on Leadership, Teaching and Learning, Curriculum, Achievement and Enrichment by the Historical Association which is a leading authority on history education across the world.  It recognises the high quality of history delivered at Pleckgate and gives national recognition to the work done in the History Department.
They were awarded gold in all the elements.
The Leadership, provided by Head of History Mr Bajkowski, was described as 'outstanding.'   It praised his use of professional development for his staff as 'leading, cutting edge and impactful' which has helped to both develop teaching and learning and a culture within the team to develop an understanding of best practice that is 'enriched by knowledge of current scholarship'.
For Teaching and Learning, the assessors observed a range of lessons and spoke to students from all year groups about their experience of history.  The assessor praised how students understood key words and concepts in the lessons as well as the fact that: 'Pupil knowledge and rapport with their teacher was excellent.' He commented on the growing sophistication of their understanding of what history is as a discipline as they progressed through the curriculum.
For Curriculum, the assessor praised the sequence in which students studied historical events to make it easier for them to understand and follow. He said: 'the sequencing of content has been given careful consideration' and 'the breadth of content has been extended and has also been diversified' since Mr Bajkowski took over as Head of Department.  In addition, they have been praised for the inclusion of relevant scholarship, reading opportunities and the engaging enquiry questions that demonstrated clear links to concepts such as power and protest over time.
For Achievement, the assessor praised the 'complex way' students are assessed commentating positively on end of year assessments that 'incorporate knowledge retrieval, source analysis and carefully scaffolded extended writing in answer to a general enquiry question' across all of their years taught at Pleckgate.  He noted the 2019 OFSTED report that praised the progress of history students at Pleckgate and said: "The quality of teaching at KS3 is borne out by the 65% to 70% of the cohort that regularly opt for history."
In Enrichment, the assessor praised the number of trips that pupils go on in Key Stage 3 and 4 as well as the projects and competitions they take part in. In particular he praised the local history that is incorporated into the curriculum and the work the department has done, and is continuing to do,  with Steve Irwin from Blackburn Museum.
Mr Bajkowski said: "We are absolutely delighted to be recognised as a Gold standard department by the Historical Association which is the highest honour we could achieve.
"This success has not come overnight and is a tribute to the hard work and dedication of my current team and of those who have gone onto be heads of departments in other schools.  Ultimately it is because of the amazing students we have at Pleckgate.  They are an absolute joy to serve and we look forward to continuing to develop and deliver an outstanding educational experience to our students for many years to come."