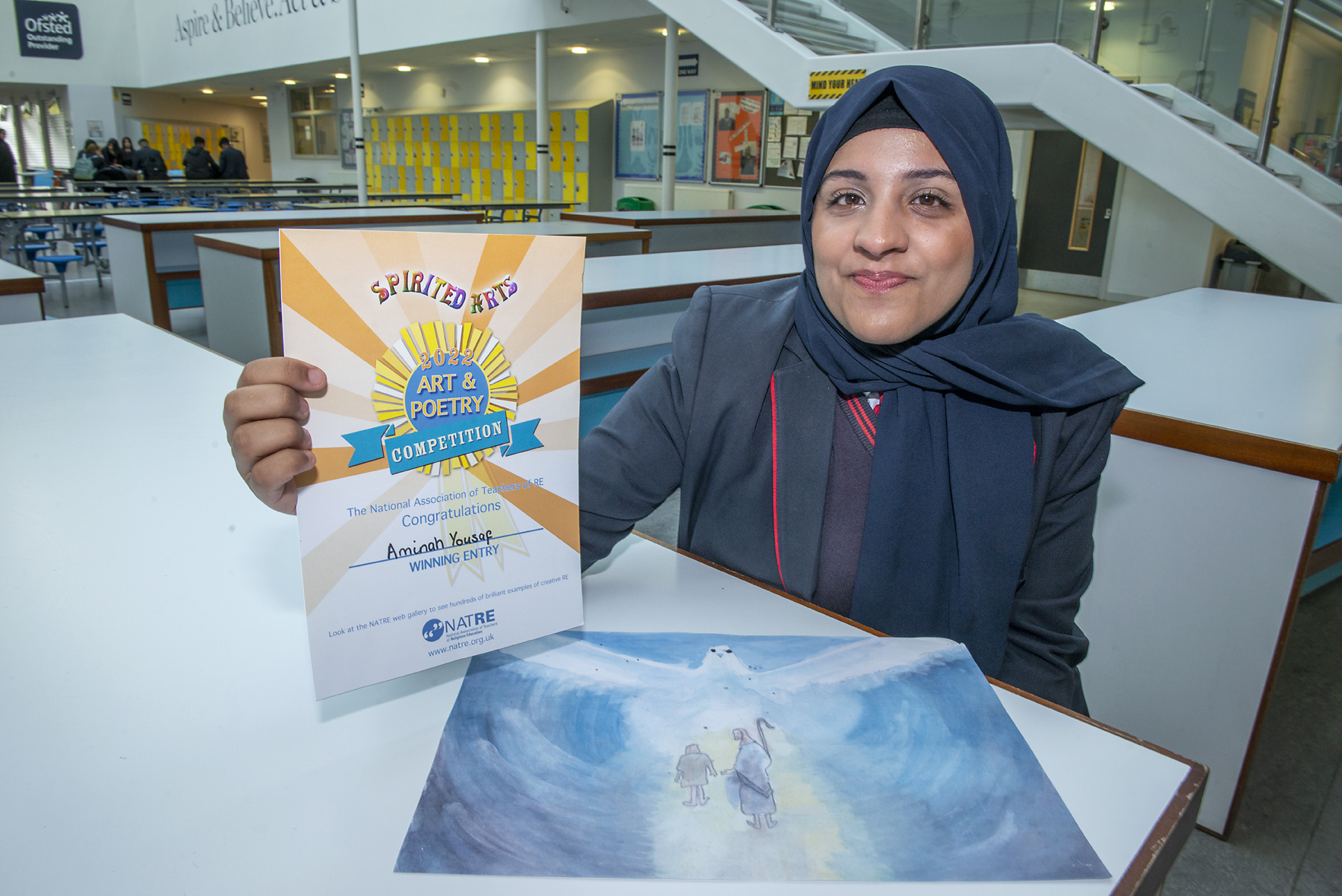 Pupil Aminah has won an international arts competition.  
The Spirited Arts competition has run for 18 years and 3,000 entries are sent to NATRE (National Association of Teachers for Religious Education) each year for judging.  
Many are from the UK but they also receive entries from as far afield as Hong Kong, Australia, Thailand and more.  
Entries can be in art, poetry, photography, dance, music, drama and sculpture.  
They set five themes and Aminah, 15, entered "Streets of Gold: Searching for God." 
"I decided to do a painting as I enjoy art and I like to draw at home," said Aminah.  
"The story behind my painting is about a child who has suffered a lot of pain and grief, so he decides to turn his head to God by worshipping next to the sea in a calm, quiet place. When he does this, Jesus goes to him and shows him what is right and wrong, leading him to the right path 
"I have also drawn a dove that represents the Holy Spirit showing that this is the light guiding Christians. I have used bright colours to show peace and happiness and because it is a reminder that God has blessed us with beauties in the world and so it's our duty to take care of it. 
"The waves I have drawn start to become lighter. This is to show how much the people have suffered in their daily lives from the start and then when the colour gets lighter, they turn to God to get rid of their grief. 
"I am a Muslim but when I studied the Nicene Creed in my RE lesson it showed me the different ways that Christians understand God.  
"What stood out to me, as I continued my studies on Christianity, was the similarity in the belief that we can overcome suffering in our own lives and help to ease the suffering of others by following God's path." 
There were five winners in each category and Aminah will receive a certificate and a £20 Amazon voucher.