Congratulations to two of our teachers Mrs Banks and Miss Bland who have been short-listed for the Education Today Awards.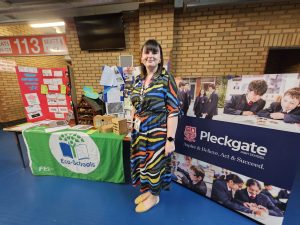 Eco-Club Lead Mrs Banks has reached the final seven of the Community Champion Award while Miss Bland is in the final four for the New Teacher of the Year award, with the ceremony in London in December.
Geography teacher Mrs Banks was entered for her passion, enthusiasm and the difference she has made in highlighting environmental matters in Pleckgate.
Mrs Banks has taught at Pleckgate for seven years and has designed lessons especially looking at the importance of sustainability and recycling for students in KS3. Mrs Banks formed Pleckgate's Eco Club in 2019 and the group has grown in number and the prestige and profile of the group has soared among the pupil community.
Mrs Banks has successfully steered the group members to be part of many new initiatives, gained the Eco Schools Green flag (with Merit in 2023) for two consecutive years and organised visits and attended conferences with Eco Club members.
Mrs Banks has driven change by planting saplings from the Woodland Trust on school grounds, building bug houses and bird boxes that were placed in suitable locations around the school site to attract birds and insects improving the biodiversity, distributing recycling litter bins in all classrooms and common areas, organising and leading litter picks in Blackburn and arranging outside agencies to work with cohorts of pupils in Year 9 about river pollution by testing local river water from River Ribble Trust.
Furthermore, the excitement and engagement has stemmed from relaunching Eco Club's exclusive day trips and a two-night residential in partnership with the Yorkshire Dales National Park and John Muir Trust.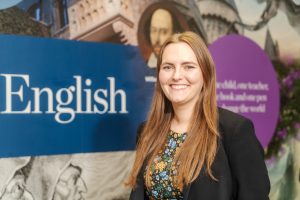 Miss Bland joined Pleckgate in September 2022 as an Early Career Teaching.
Since joining the school, Charlotte's passion and optimism has made a real difference to the education and lives of the pupils at the school.
Ms Bland is a dynamic and ambitious teacher, her creativity is conveyed through her love of drama and she will often encourage pupils to participate by getting involved in role play activities, drama club and performance poetry.
Although Charlotte is new to the teaching profession, her hard work and commitment is already having a great impact on pupils' lives. Pupils often comment on how much they 'love Miss Bland's lessons.'
Miss Bland is committed to professional development and gives up her own time to attend Research Ed Events and attend training led by the Royal Shakespeare Company.
Miss Bland has plans to use her Theatre Studies training to good effect to lead a whole school production this year.
You can read the article on Lancashire Telegraph here