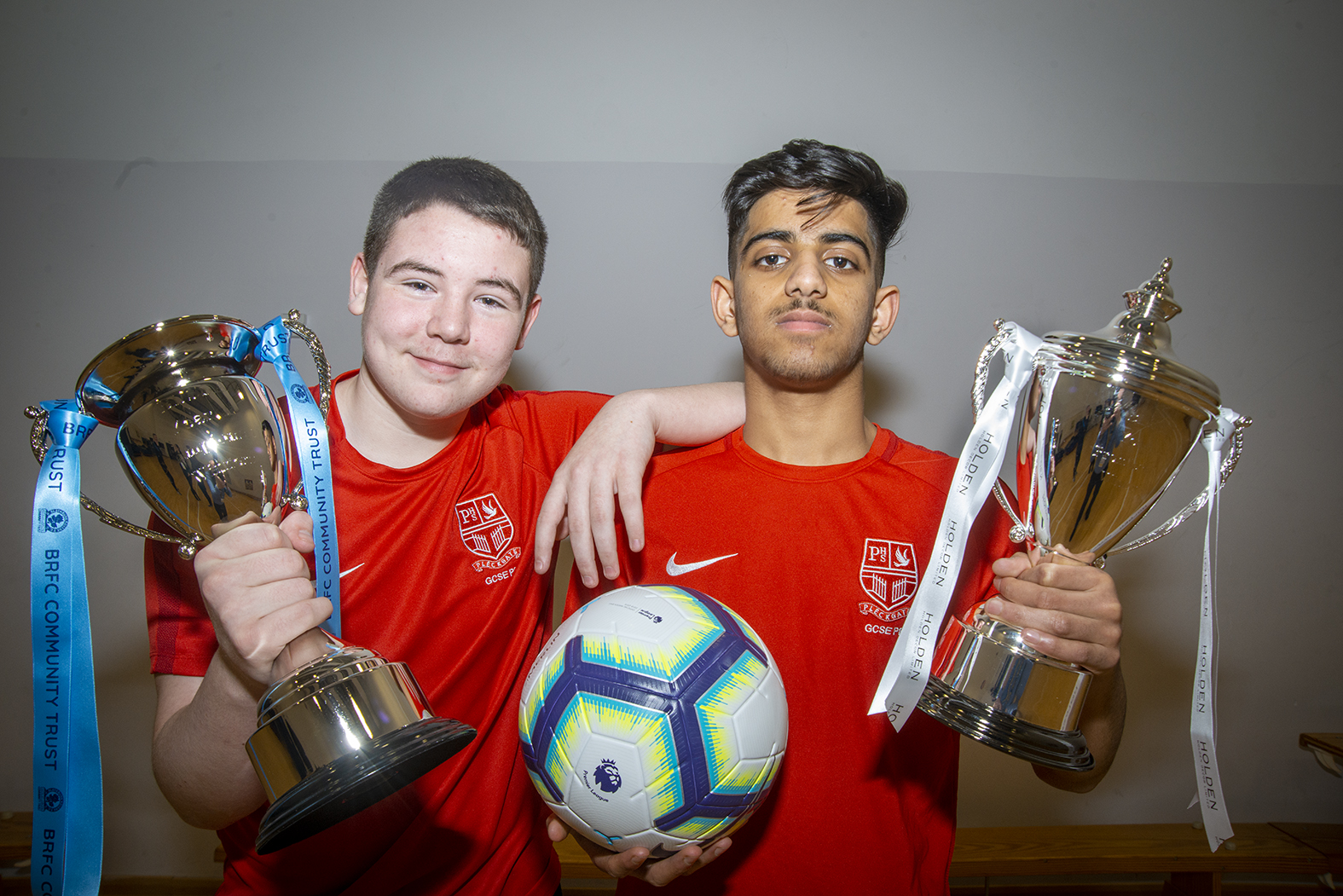 Photo – Josh and Mohammed with the new Trophies to be competed for.
The new school football league is coming to its finale with the winners being invited to a glittering ceremony at Ewood Park to be presented with their trophies.
The new-look Blackburn with Darwen School Sports Association football leagues started in September and will finish on Friday February 14th.
Ten schools including Pleckgate, Blackburn Central, Darwen Vale, Our Lady and St John's, Witton Park, St Bede's, St Wilfrid's, DACA, Westholme and Tauheedul Boys have competed in either the Premiership or Championship within their respective year groups. The winners will receive trophies, medals and a new high quality matchball. League promotion and relegation is also now a feature.
Each league consists of five schools and they play four games each.
Organiser Ben Pickup, who is a PE teacher at Pleckgate, said: "I became the league organiser in September and I wanted to make sure the winners were rewarded with trophies and medals.
"I am absolutely delighted to introduce our new league sponsors Holden Decor and Blackburn Rovers Community Trust. Their investment in school sport will provide hundreds of pupils within the borough a sporting competition to be proud of.
"School football is incredibly important for young people so they can experience being part of a team, to compete against each other and to provide an opportunity to excel."
The schools will be presented with their rewards at Ewood Park one afternoon in June, the first awards ceremony of its kind for school football.
Chris Brankin, a Youth Engagement officer for Blackburn Rovers Community Trust said: "BRCT have been long time supporters of the Blackburn with Darwen school football leagues, with the final of the cup competitions taking place on the pitch at Ewood Park each year.
"We are delighted to add further support by providing sponsorship to the leagues which will enhance the experience for all young people representing their school."
"We look forward to a continued partnership with the leagues and are excited to provide local young people with more opportunities and recognition for their successes."
Derek Holden, owner of Holden Décor Limited said: "Holden Decor is a Darwen-based business with its roots in the wallpaper industry that began in the town, and its employees and their families support local football teams."
"We are therefore absolutely delighted to support this imaginative initiative which provides an ongoing competition structure for local schools, with annual trophies and awards, and offers tangible and appealing incentives to excel in the sport we love."