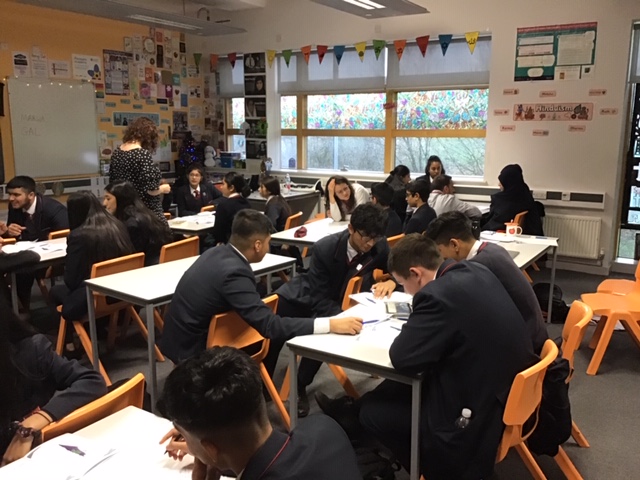 Solutions Not Sides  – Write up by Iqra and Hafsa Year 10
On Thursday 12th December 2019 some year 10 pupils had the opportunity to take part in a 'Solutions Not Sides' workshop. It was a great experience for everyone and we learnt a lot about the different perspectives and viewpoints on the conflict between Israel and Palestine.  We met Marwa, an American Palestinian who shared her heart touching story and Gal, an Israeli who bravely fought for his country in the army.
We believe this was such an important experience because our generation need to take a step back from the biased media influence and listen to the true story from people who have been greatly affected by the conflict.  We learnt that the news is not always truthful and there are always two sides to every story.  Marwa had a really tough childhood and she told us stories about her mother's brutal past experience in Palestine.  Gal had to take so much responsibility and risk his life trying to save others in Israel.  No person should have to go through this and suffer the horrific circumstances.
The main thing we learnt is that we should not take sides but should try and find a peaceful solution.  This was an enjoyable experience because they were so understanding and honest with our many questions and didn't hold back when answering them.  Juwairiya, a year 10 pupil,  said that "It was a very interesting experience and I am thankful for this opportunity to become more aware of this situation".